Cats. Love 'em or hate 'em, there's no denying that the internet is pretty much made of cats. They're everywhere! From YouTube to brand marketing and adverts galore, cats have been the breadwinner of most loved vids and imagery for years. Although, don't get us wrong – we love a good canine moment from time to time… But cats, because cats.
Why do we seem to favour cats more than man's BFF though? Well, it's been said that cats do the crazy feline-things they do, because well, they want to, and dogs – well, dogs do everything to be cool, right?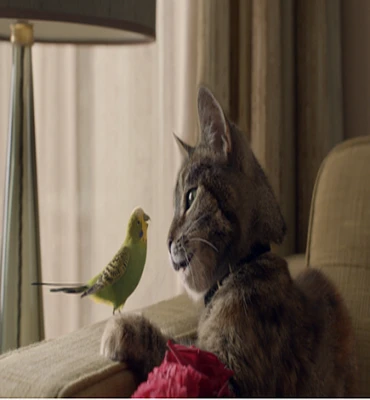 Freeview TV advert, 2014

We're not 100% sure – we love 'em both – but with that inherent watchability in mind, it's near impossible for us design folk to ignore the very impressive influence cats can have over huge numbers of people. Let's face it – cats can make anything go viral.
So, if you're looking for a little brand inspiration – here's the crème de la crème of cat meets marketing purrfection! Enjoy.
Cats with Thumbs, Cravendale – 2011
Views: 7.7m
Before Cravendale released this ad, they were just another milk company, and after the ad – they were the 'cats with thumbs' milk company. Their clever and comedic use of cats is actually genius, and encouraged a relationship between audience and brand.
Need proof? After the 'cats with thumbs' ad aired, Cravendale saw:
Brand awareness increase of 10%
Sales increase of 8%
7million+ YouTube views
Voted in the top 10 best commercials of 2011 by Adweek
Not to mention, when incorporating social media into the mix; Cravendale's mascot 'Bertrum Thumbcat' received over 85,500 likes on Facebook. That's one pretty popular kitty, eh?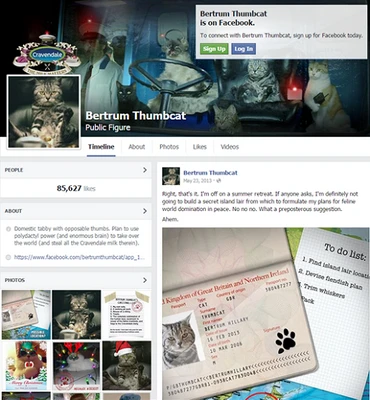 #SingItKitty, Three – 2014
Views: 5.6m

Three's most successful and memorable ad shows a five-year-old girl phenomenally miming to 1985's power balled "We Built this City" by Starship. Oh, and what's the cat in the basket doing? Harmonising with her, of course! This ad was a perfect pitch for the mobile phone network, packing a double punch of cute and heart-warming gold dust!
Want more? You can even make yourself the 'kitten-smitten, free-wheeling' star of the show by heading over to www.singitkitty.co.uk – very clever, Three!
#SingItKitty has also started a Starship revolution, with the track's sales increasing over on iTunes since the ad's release.

All in all, everyone loves a cute ad – with cute graphics, cute kids and cute animals. So, it's no surprise that the mobile phone network provider saw nearly 1 million interactions with the video on social media after it aired on ITV's This Morning. And, as far as YouTube goes, views are currently at 5.6 million!
And finally… The clever guys.
Chocolate Digestives Kitten Ad, McVities – 2014
When McVitie's released their latest ad campaign in late 2014, it was way up there on the cute-o-meter. The first ad – kittens; the second ad – puppies; the Christmas ad – every type of adorable animal you can possibly imagine – now that's the way to get the biccy-lover's attention!

After investing £12m to revamp the brand, McVities mastered the true art of promotion with this ad concept, releasing a series of product adverts with a new and lovable gang of fluffies. Perfect!
McVities Christmas TV advert, 2014

Without targeting just the cat people, or just the dog people – McVities cleverly found a gap in the market, and saw the brand's market value share rise 26% after the ad's release!
The key to marketing is to go with what your audience want, and what your audience enjoy – encouraging an immediate connection between product and customer. Whether it's cats, dogs, food or travel – Here at Liquid Bubble, we dedicate ourselves to being one of the leading and most innovative providers of graphic design in London, and offer a unique range of bespoke marketing services; from web design to rebranding. So, for more information, or to find out what we can do for you – please get in contact with our friendly and creative team on 0208 900 1191 today!