Every man and his dog are aware of the recent rise in mobile apps, but when it comes to Apple's 'App Store' for iPhone – they boast one of the most extensive collections of apps throughout the market. Go on, test it! Think of the weirdest thing you can, search it – and there's probably a 99.9% chance it'll be there for download, and if it isn't – why don't you make it?
As one of the leading digital agencies who provide mobile app development in London – we're here to help you discover the best, worst, quirky and most useful apps of the Apple world, making sure your home screen is filled with app-gold!
So, without further ado, let's get started on the useful apps – here's our pick of our top 3 favourites.
Hotel My Phone (FREE)
So, picture the scene – you're out with friends and as the night goes on, you notice your phone battery is almost dead, (we've all been there!) and you're expecting a really important phone call… What do you do? Go home? Nope, use 'Hotel My Phone' on your friend's phone, of course!
It's the new wave of apps soon to be on our must-download lists. Offering users the ability to temporarily borrow a friend's phone, allowing them to text and call from their own number! We're not quite sure what the privacy issues are with this just yet, but right now – it sounds pretty useful to us!
Sleep Better (FREE)
A useful app for all those sensible folk – Sleep Better is a smart alarm clock and sleep cycle tracker. It's designed to work when the iPhone is placed on the bed, with the app running. The app is said to react to your movement during the night, collecting data of how often you twist and turn and get out of bed. In the morning, you'll be greeted with beautiful graphs of your nights sleeping pattern. You can fully customise this app, and choose when you want to wake up, to your own music and alarms, making sure your sleep cycle is suited to your zzzz needs. Pretty cool, eh?
MapHook (FREE)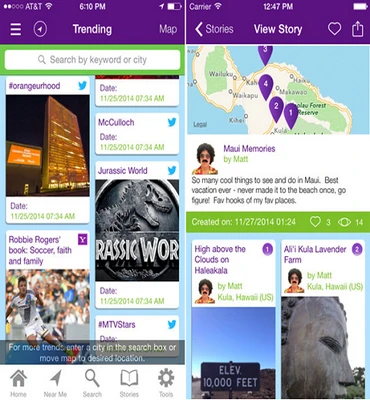 Ever been on holiday, or walking around a new city and seen something you absolutely love but don't have a pen and paper on you? Sure, you snap a few photos, but how do you truly record it? With MapHook, obviously! MapHook's a location-based journal which allows users to make note of what, where, when and how by uploading photos, videos and on-location notes to help others discover the journey, too! It's the ultimate traveller's guide to exploring new cities, countries and discovering secret hot-spots through the eyes of others – encouraging those wanderers amongst us to see the world a little differently! Amazing.
If you're a business owner and want to make your brand stand out amongst the crowd, join the hand-help revolution do it with an app! Here at Liquid Bubble, we offer professional and creative mobile website and app development services. For more information, or to speak to one of our friendly and innovative team – please do not hesitate to contact us on 0208 900 1191 today!