Even though it seems a simple enough task, designing a website can be difficult to get just right. You may have all the content in front of you, ready to upload, but if it isn't set out in the correct way, then you're preparing your visitors for a very short stay.
The saying, 'less is more' couldn't be more apt when trying to achieve a professional design, as too much clutter on the page gives off the impression of being amateur and unorganised. With these simple, straight forward suggestions, you could vastly improve the aesthetic of your site.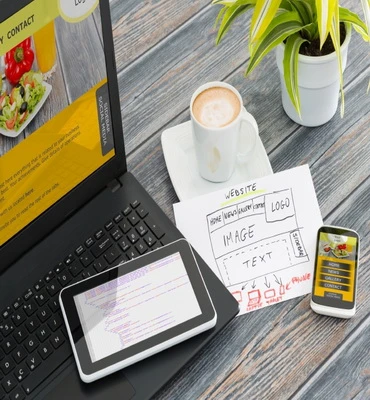 Clear and Concise Font
Choosing your font is important – everything from style to size can contribute towards a more professional looking website. Firstly, you have to make sure your the text is readable. It isn't worth choosing a font because it looks pretty if it isn't actually decipherable.
A clean and clear font is advised, in a size that isn't a struggle to read either. Choose a classic font, without too many deviations in colour, as you want to stay consistent with the text on every page to establish a solid presence.
Utilise Your Visuals
Now you've got your text sorted, you've got to find a way to break it up. Huge walls of text are not appealing, and will do a great job in sending your audience elsewhere. Setting out your content with images to break up the blocks of text is a great way to give your audience digestible chunks of information.
Visuals also add another dimension to your site by giving them something else to engage with. Make sure the graphics you use are of good quality and bring something to your content.
Easy to Navigate
Having a site which takes forever to load due to too many fancy applications will make visitors grow impatient, when all they want is to find out a single piece of information.
Organising your page to the best of your ability is also advised so that users don't get frustrated trying to navigate their way around – you can do this by creating clear cut menus and having links that aren't vague and that redirect you to the necessary pages.
Liquid Bubble offer digital media services in London, including website and graphic design. Whether you want to expand your business online, or you're looking to re-design your own site, we can help you build an online presence. For further information about the services we provide, contact us at 0208 900 1191, otherwise you can find us on our Facebook, Twitter, LinkedIn or Google+ pages.