Walking down the street, you will come across plenty of posters advertising some sort of event, night or gig in a variety of locations throughout the city. Whether it's a pub, nightclub, music venue or open air space – their main aim will be to grab the audience's eye and encourage them to choose their event over any other that night.
Design is one of the most effective ways to draw attention through advertisement, and quality design can create strong communication between audience and product. Posters are a cost-effective and efficient way to reach a large audience over short periods of time.
Here at Liquid Bubble, we think design should be creative, so here's a few of our top music posters that use creativity to the fullest!
Los Campesinos! By Magnificent Beard
A two colour screen print printed onto grapesicle French paper offers a completely unique aesthetic to the normal matte and gloss options. In order to gain the shimmer quality to reinforce the moon's effect on the water, gold metallic ink was used to create a textural quality. This poster really is simplistic beauty in design form, making the perfect alternative art to hang on your wall!
First Aid Kit by Adrian Dutt
Originally designed and created for independent record store Rise, the same artist creates a wide variety of poster exclusives for in-store and to promote live gigs within the shop. Its simplistic design and one colour tonal palette creates the illusion of a 3D effect, captured by the slight off placement of the top print above the original.
Mogwai by Kevin Tong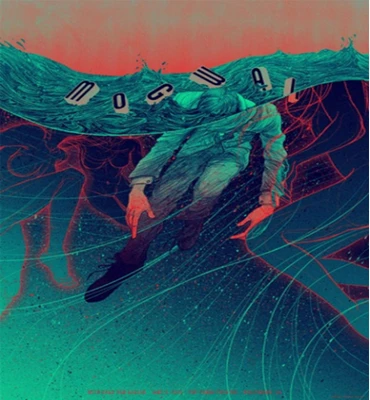 Created by an illustrator living and working in LA, this is the third artistic poster he has designed for Mogwai, a Scottish post-rock band that have been dominate in the alternative music scene since '95. The original poster designs come in two colour variants, with both editions being extremely limited. View the video below in order to watch the detailed design process from pencil drawing to creative suite editing.
Joanna Gruesome by Kieran Gabriel
Designed by established gig poster expert, Kieran Gabriel. The unique quality of this poster is its DIY and handmade aesthetic. It offers a charmingly organic and homemade luxury, whilst being completely on-trend, eye-catching and stylish of both advertised band and gig location. This poster is particularly exciting in terms of design due to its unique font placement and juxtaposing colours that create a striking and must-read poster. It would also look amazing on your wall as a piece of art after the gig! Everything that a gig poster should offer.
Here at Liquid Bubble, we are dedicated to quality design and are proud to be one of the leading providers of both print and website design in London. For more information please do not hesitate to contact our friendly team on 0208 900 1191 today!