The quarantine has forced many people to make the virtual world their new reality with increased screen time. Apps that cater to the 'work from home' population, interactive gaming apps, photo-editing apps, and VOD apps enjoyed a massive jump in their downloads.
Here are the top ten Apps that saw the most downloads during the ongoing COVID-19 pandemic.
TikTok- The video-sharing App saw the most downloads on Google play store and other Android stores. Although there has been a lot of controversies around TikTok (banned in some countries), it has emerged as the most significant player this year.
Zoom. Many companies had to allow the 'work from home' option to their employees during the quarantine. Communication Apps like Zoom that let users connect with their team have done tremendously. By May 2020, Zoom had 123M downloads.
Whatsapp. Some 2billion users on Whatsapp today make the company one of the most prominent players in the digital space.
Facebook. Since its inception in 2004, Facebook continues to be among the 'most downloaded' and 'most time spent on a platform' App.
Facebook messenger. The Facebook messaging App saw a surge in its download rates during the pandemic.
Instagram. The influencer market was already trending in 2019. With the ban on TikTok, many users shifted base to Instagram this year, making it one of the most downloaded apps.
Google Meet. The business version of Google's Hangouts, Google Meet, is giving Zoom a tough competition.
Snapchat. With the need to stay connected with your friends during the pandemic, Apps like Snapchat grew in popularity.
YouTube. Youtube saw a 26.5% increase in revenue this year thanks to the millions of downloads and increased user-time during the pandemic.
Netflix. VOD platforms like Netflix, Amazon Prime, and Disney plus saw increased memberships and downloads in 2020.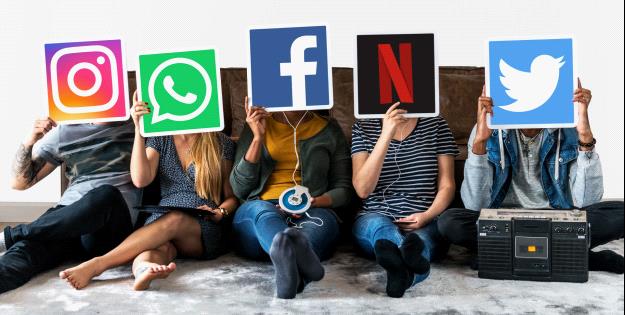 COVID-19 has caused a surge in Screen-time and download of popular mobile applications.
Virtual reality.
Work From Home, Virtual house-parties, online gaming-sessions, Netflix & chill, and even attending university online has become the new reality that has caused significant changes to the digital space. Consumer behavior is set to change in the coming years, and digital will only grow. Creating an App for your business may seem like a cumbersome or expensive affair but remember, Apps are what makes your phone smart, and consumers are downloading them at a maddening rate.