Here at Liquid Bubble, we don't just design your website and make it look attractive, we also help you generate interest, and therefore bring that all important website traffic to your website. We do this through many different channels, but one of the main ways we can make this happen successfully is through Pay Per Click (PPC) marketing.
As an established provider of PPC management in London, we already know that many clients of ours had no idea what PPC meant for their business before they began working with us. With this in mind, here's our introduction to PPC management, and why you should include it in your marketing plan!
What Is PPC?
PPC is a marketing strategy which requires businesses to pay a certain amount to a host or search engine every single time an ad of theirs is clicked by an internet user. This may seem a little counter-intuitive at first, but let us explain a bit more about how the process works.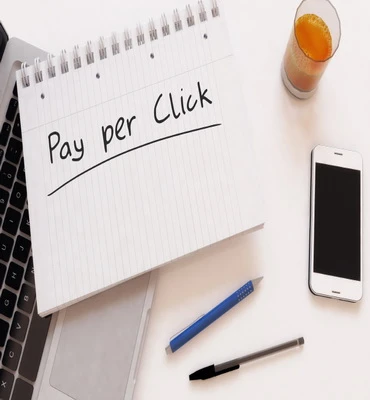 The most common form of PPC marketing is currently advertising on search engines. Businesses will essentially bid for inclusion in the search results of a keyword that they want to rank for, and will appear in the sponsored link sections of Google.
Because these sponsored links are easily visible at the top or side of the search results, people will be more inclined to click them rather than scroll down. Each time a searcher clicks your sponsored link, you will be required to pay the search engine's fee for being in that much sought after spot on their rankings.
In the grander scheme of things, the amount that you have to pay will be nothing compared to some of the sales that you make from the people visiting your website, meaning that although you may pay a small amount for the click fee, that customer may go on to spend a whole lot more on your website once they are there.
What Goes Into My Campaign?
Although it may seem straight forward, there is a lot of planning and researching that goes into a PPC marketing campaign; from finding the keywords that you want to rank for within the sponsored searches to deciding which pages will be linked to within the advertisement to make the fee worthwhile.
Ideally you will want to link to a page where the customer can purchase something from your website, or at least be informed of the products that they can purchase from you.
With a professionally managed PPC campaign, you can benefit from cheaper click rates offered by search engines. This is because you will be consistently linking to high quality, targeted web pages on your website, making your website easy to navigate for the searcher.
With this in mind, it's not hard to see why many businesses opt to market their services on the web through PPC marketing, especially with these reduced rates as it works out making the business more profitable, despite paying a fee per click.
This is just a basic outline of what PPC can do for your business- there's so much more to it! If you'd like to chat to one of our PPC specialists here at Liquid Bubble, feel free to contact us today by calling 0208 900 1191 today and we will be happy to help you.
Make sure you're keeping up to date with us on our social media pages, too! We can be found over on Facebook, Twitter, Google+ and LinkedIn.