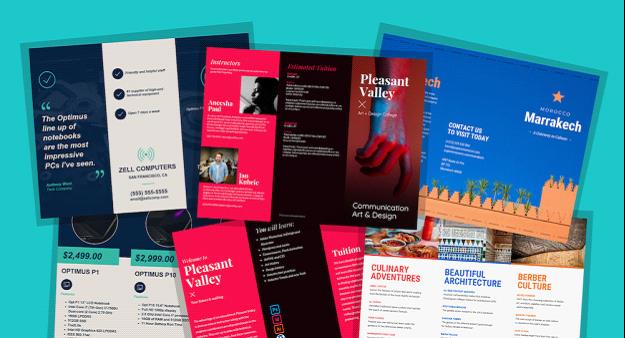 A brochure is a creatively designed informative piece of writing that allows customers to know about your business within a few minutes. A good brochure will be simple, visually appealing, and informative. You have only a few short seconds to attract a potential buyer's attention and leave an impression. Hiring a graphic designer to create a perfect brochure for your business can work well for you.
Here is why you need a brochure.
Create brand visibility. A brochure is a physical piece of information that your potential customer may carry home. A good brochure will leave an impression on buyers, who, in turn, will tell others about you. Brochures are excellent for tradeshows, live-events, sales, and exhibitions.
Merchandising tool. A great way to attract new customers is to give-out branded freebies or merchandised products. Giving out an informative brochure with your company logo, website details, and product descriptions, and the merchandise creates interest around your brand.
Cost-effective. With digital printing, it is now easier and cheaper to print high-definition graphics onto paper. Buying in bulk will also significantly decrease your marketing expenditure.
Builds trust. Even though digital marketing is the number one go-to tool for most businesses, a physical brochure can be useful. When you present physical literature about your business, consumers believe that you are established and reliable. This is especially true for baby boomers and gen-z, who are also the biggest online spenders.
Brochures can do a lot for your business, but you must have a great design and exciting content. A poorly designed brochure will negatively impact your brand name. If you need help designing and planning your brochure, seek a professional print and design agency like Liquid Bubble. They create high-quality brochures and also print them for you.
So if you think that brochures, flyers, and pamphlets are old-school and all you need is digital marketing for your business, think again. Printed media builds your brand base and makes consumers trust your company. Get printing today!