As discussed in part one of this app-tastic blog series, mobile apps have become a popular part of today's technology-culture. From games, weather-forecasts, job-finders and something to sort your sleeping pattern out – if you've thought about it, there's probably an app for it!
Here at Liquid Bubble, we're proud to be one of the leading providers of quality, creative and forward-thinking web design in London, and are dedicated to providing our clients with the latest in technological trends.
So, as promised – here's the second instalment of the weird, wonderful and genius apps you can find for download via the iPhone App Store. Enjoy!
Cloak – Incognito Mode for Real Life (FREE)
"Think of it as the antisocial network"
Ever been really jealous of Harry Potter because of that invisible cloak? Well, now you can get your own… kind of. Cloak tracks instagram and Foursquare users to let you know where your friends, 'friends' and non-friends are at all times so, you know, you can avoid that awkward meeting…
Apparently having captured the attention of tens of thousands people since its release, Cloak allows you to actively avoid people you don't want to run into. You can even 'Hate Follow' people, too! Right now only instagram and FourSquare are supported, but the company are working on adding Facebook soon!
London Bus Checker (£1.99)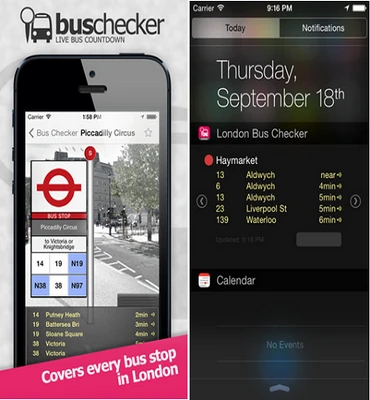 Waiting for a bus anywhere is a pain, but no more so than in London where it seems as though every bus that comes is not the one you need. Thankfully, there's an app like London Bus Checker! The app works by displaying all the bus stops on a map in your area. You can tap a stop to see a real time list of the upcoming buses, including how far away they are and when the next one is due. You can also view the route map for any bus – pretty handy, eh?

TriggerTrap (FREE)
Fancy yourself as the next Bailey but don't have the funds to kit yourself out with the latest camera-wizardry? TriggerTrap is the inexpensive solution to all your problems!
By using a simple adapter plug, priced at £30-ish, you can connect your camera to your mobile device, transforming your smartphone or tablet into an advanced piece of photography kit. Including timelapse, distancelapse and long-exposure, these modes will help you create beautiful images as good as the real thing! Pretty cool, hey?
For more information on our extensive range of digital, web and print services, please do not hesitate to contact us on 0208 900 1191 today! Our team of professional creatives will be more than happy to answer any questions you may have.